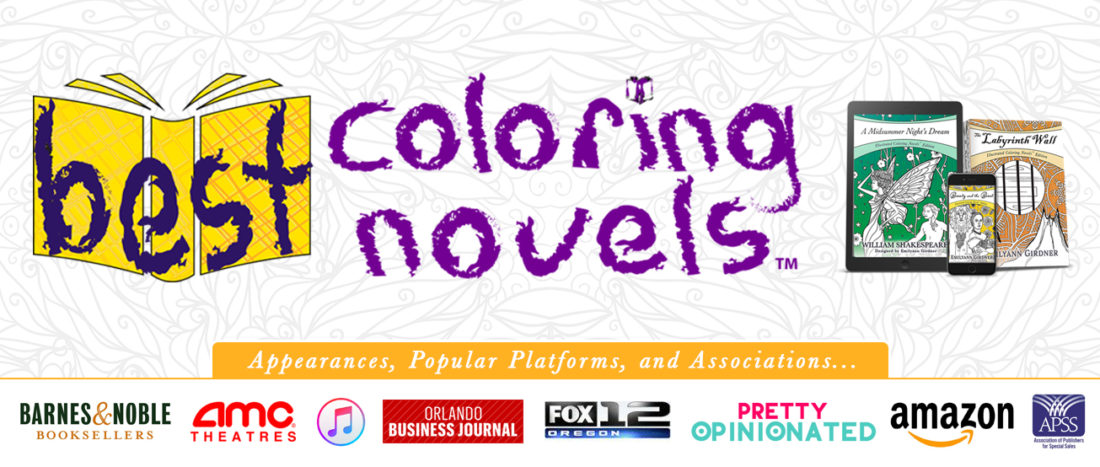 Best Coloring Novels Collection:
The Labyrinth Wall
Read and color Amazon Best-Seller, Reader's Favorite 5 Star rated, Dante Rossetti Award Finalist novel, The Labyrinth Wall, the first book in the Obsidian Series. This adventurous young adult fantasy tale will transport you into a magical but deadly world with new races, creatures, heroes, and villains that you won't soon forget. Sean Astin (from Lord of the Rings, Goonies, Rudy, 50 First Dates, and more) tweeted about The Labyrinth Wall.
* Novel Length *
Beauty and the Beast
Beauty and the Beast is a favorite fairytale that has been passed down for generations. It is an enchanting story of a beautiful young lady who discovered never to judge a book by its cover. She makes a few other surprising discoveries and finds new friends along the way too. Experience this whimsical story and fall in love all over again as you enjoy this Coloring Novels TM edition of the classic tale. Read, color, and enjoy this edition of Beauty and the Beast!
* Short Story Length *
Sense & Sensibility
Perfect for fans of romantic classics like Pride and Prejudice and Downton Abbey, Sense and Sensibility (a Jane Austen novel) tells the tale of the lovely Dashwood sisters. They face difficult times after their father passes away and must each find a suitable husband if they are to be accepted in society. This special Coloring NovelsTM edition features vintage 1800s inspired pattern designs as well as adapted digital artwork by Emilyann Girdner. 
* Novel Length *
A Midsummer Night's Dream
Inspired by Greek mythology, A Midsummer Night's Dream follows the adventures of young Athenian lovers, a group of actors, the Duke and Duchess of Athens, Theseus and Hippolyta, and the fairies who inhabit nearby moonlit woods. This classic tale is a romantic comedy by William Shakespeare written around 1594 to 1596. This Coloring NovelsTM edition is the public domain version and has 40 imaginative colorable illustrations (characters, scenes, and many pattern designs) including featured artwork by author and artist, Emilyann Girdner.
* Novella Length *
Sign-up below to receive a FREE fantasy eBook and imaginative updates from Emilyann
(author, artist, & the creator of coloring novels)!
Best Coloring Novels  ©  Emilyann Girdner – Coloring Novels TM 2017 © Luminous Words Press